Wzmacniacz lampowy 2A3 Push Pull
Skonstruowany przeze mnie w grudniu 2021 magiczny wzmacniacz o sporej mocy jak na te lampy ok 12W (specyfikacja mówi nawet o 15W), który napędzi każde normalne kolumny o efektywności przynajmniej 88/90db. Zbudowany po nabyciu płytki głównej PCB i schematu na ebay.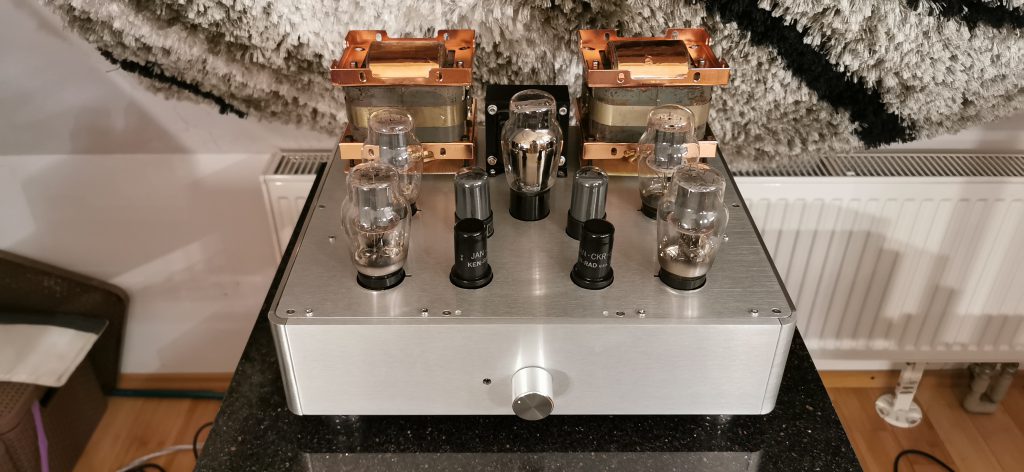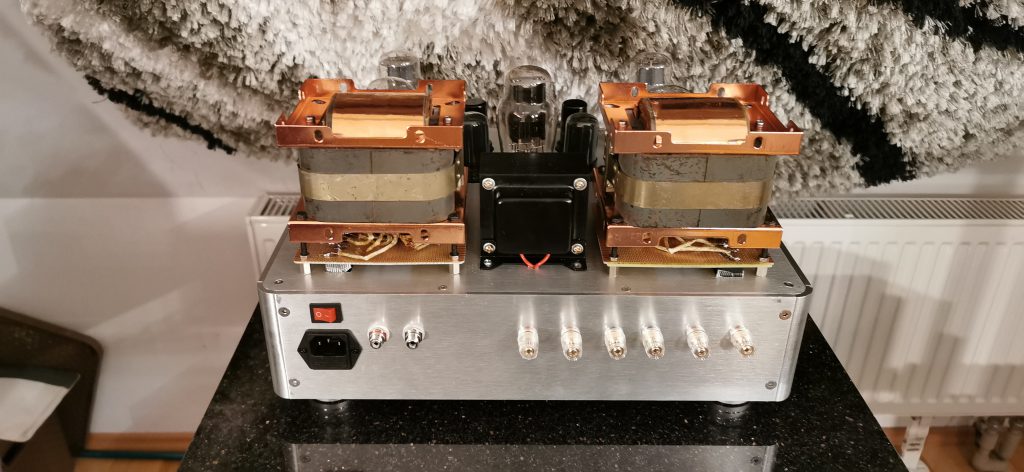 Specyfikacja płyty głównej wzmacniacza:
This kit employs commonly used triode 2A3 vacuum tubes in push-pull configuration. The first two stages uses pentode 6SJ7 (6J8P) for pre-amplifying and twin-triode 6SN7
tubes for phase splitter. The AC voltage is rectified by 5U4G/5Z3P rectifier tube. The output power can reach 15W for each channel. This amplifier can be configured either
open loop gain or close loop gain. This is the bare PCB of a stereo tube push-pull( PP) power amplifier making use of the all-the-time best sound tube 2A3.The board has put heavy attention on the signal routing to optimize the performance. The amplifier features the input gain responsible by 6SJ7 tube, 6N8P( or 6SN7) for phase splitting and finally two 2A3 on each channel in push-pull configuration.
The board is built with premium quality, including thick copper, gold plated conducting surface and two-sided solder resist for maximum reliability. The PCB is as thick as 2.4mm !
Użyte przeze mnie lampy:
5U4G RCA JAN
2A3 RCA NOS (lata 40) x4
6SN7-GT RCA NOS (szare) VT231 x2
KEN-RAD NOS JAN CKR 6SJ7 (metalowe) VT-116 x2
Specification :
Input sensitivity : 1Vrms
Close-loop gain : 22dB
Input Impedance : 100K
Power transformer requirement :
– 280VAC x 2 to 320VAC x 2 100mA
– 6.3VAC x 2 1.5A
– 2.5VAC x 2 5A
– 5VAC x 1 3.5A
dławik 4H 400mA
dławik 8H 150mA
Brak sprzężenia zwrotnego, opcjonalnie można je zastosować
transformator wyjściowy 3.5K PP
Specyfikacja transformatorów wyjściowych 4kg sztuka: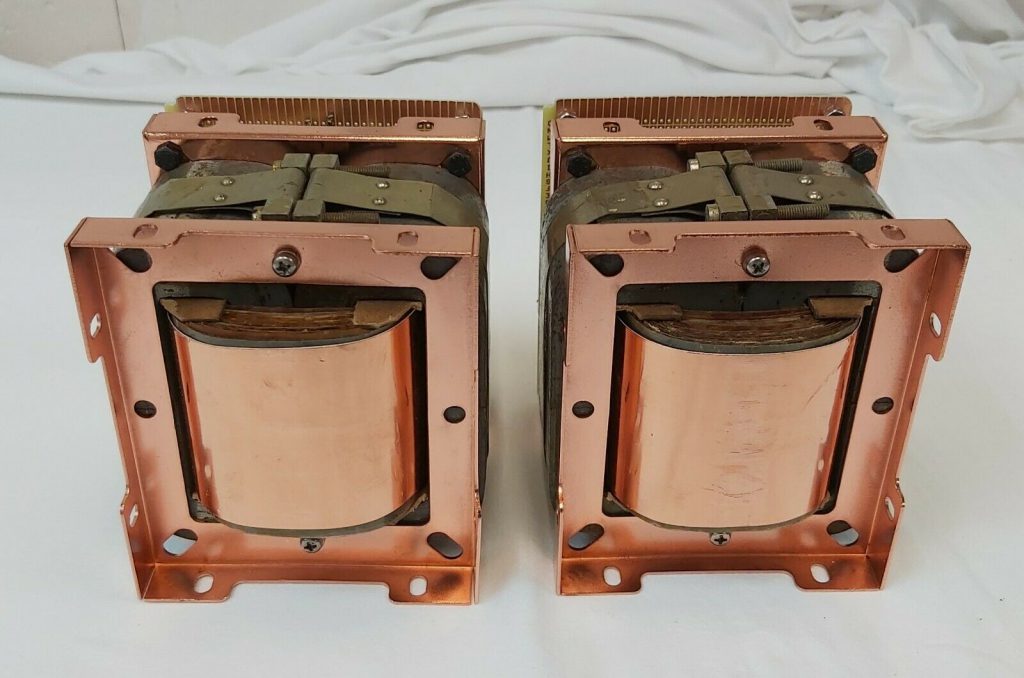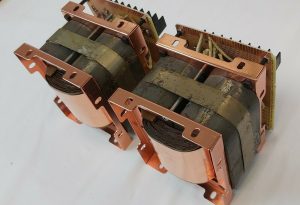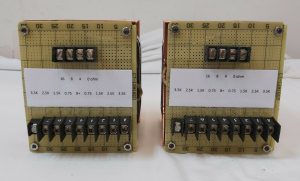 Class : Push Pull, 4C-CORE design
Primary impedance :3.5K-2.5K-1.5K-0.75-B+-0.75-1.5K-2.5K-3.5K Ohms
Primary DC resistance :110-0-110 Ohms
Primary inductance: 25H
Secondary impedance : 0-4-8-16 Ohms
Secondary DC resistance :1.14 Ohms
Maximum voltage:2000v
Maximum wattage: 50w
interleaving winding: 4 layers
Frequency range : 20–35K Hz
Maximum DC current : 1500M A
Tube application : 300B, 2A3, 6080, 6C33C….
The induction plates is amorphous C-CORE, come from UK
Size : 90X100X120(MM)
Net weight : 8kg / pair
Transformator zasilający od Toroidy.pl
TSTA 0200/003 – Transformator sieciowy do urządzeń lampowych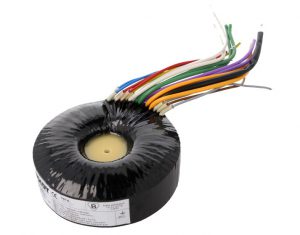 Dane techniczne
| | |
| --- | --- |
| Moc | 200VA |
| Napięcie zasilania | 230V lub 2x115V |
| Uzwojenie wtórne SEC I | 300 – 0 – 300V / 0,2A |
| Uzwojenie wtórne SEC II | 5V / 4A |
| Uzwojenie wtórne SEC III | 2,5V / 5A |
| Uzwojenie wtórne SEC IV | 2,5V / 5A |
| Uzwojenie wtórne SEC V | 3,15 – 0 – 3,15V / 3A |
| Wymiary AUDIO | Wysokość 48mm, Średnica 117mm, Waga 2,1kg |
| Wymiary SUPREME | Wysokość 65mm, Średnica 150mm, waga 3,0kg |
Brzmienie
Bajka i spora moc, piękne, bardzo czyste, dynamiczne i szczegółowe oraz przestrzenne i dokładne – w sposób nieosiągalny dla 300B, napiszę więcej później
Zdjęcia z procesu powstawania tego wzmacniacza, wszystko robiłem ręcznie w tym piłowanie otworów itp. Trudno to było wszystko zaprojektować i pomieścić wewnątrz obudowy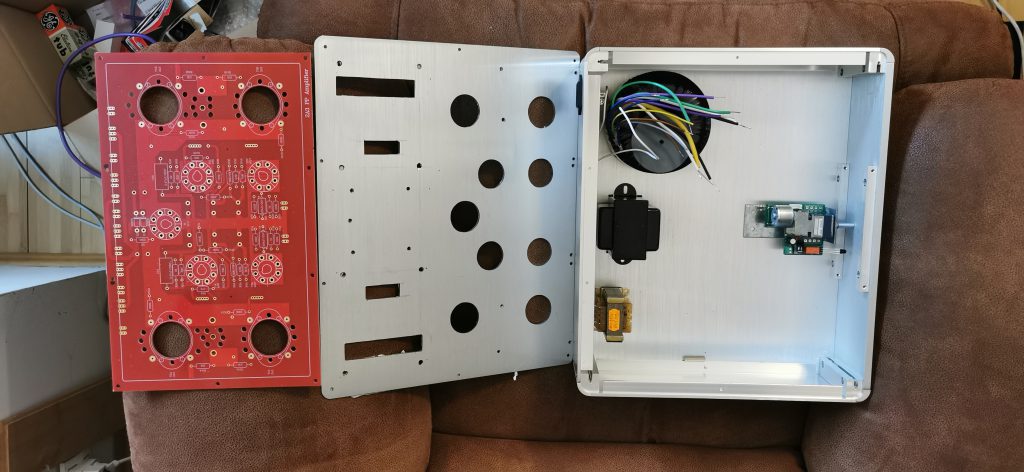 Schemat podobnego wzmacniacza sprzedawanego jako kit